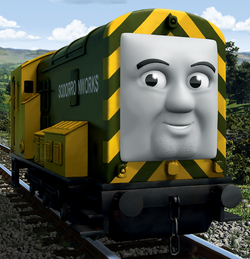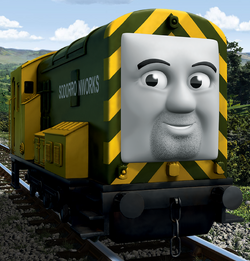 'Arry and Bert
Numbers: D5 and D6
Class: BR Class 08
Designer: British Railways
Builder: NWR Crovan's Gate Works
Built: August 1957
Configuration: 0-6-0DE
Top Speed: 20 mph
'Arry and Bert are twin diesel shunters who work at the Sodor Ironworks. They can occasionally be found working at the Anopha Quarry.
Biography
Persona
Arry and Bert are unquestionably devious, scheming, physcotic and, some say, sadistic. They feel superior to steam engines and, working at the scrap yards, they enjoy the chance to break up engines, painfully, or at least make their lives more difficult. Due to their grim task, they have earned a reputation on Sodor as "The Grim Messengers of Doom." However, despite their prejudices, the diesels have co-operated with steam engines on occasions, and when they are in trouble, steam engines often come to the rescue. They are known to presue engines who have escaped from scrap, such as Oliver and Stepney, wanting to "finish the job".
Livery
'Arry and Bert are painted green-grey with yellow hazard stripes on their fronts with yellow cabs. The numbers "D5" ('Arry) and "D6" (Bert) are painted on their cab sides and they have "SODOR IRONWORKS" written on their sides in white.
Trivia
Bert is the twin with more stubble.