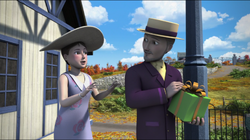 The Duke and Duchess of Boxford
Alexander Spencer Guillemot, 4th Duke of Boxford and Evangeline Wallis Guillemot, Duchess of Boxford were a wealthy noble couple who regularly visited Sodor with their private engine, Spencer.
Bio
Persona
Attire
The Duke wore a dark purple suit jacket, which had the Boxford Coat of Arms on the left side, over a yellow shirt and grey trousers, with a brown boater hat, which had a purple band. The Duchess wore a light purple dress, with white collars and pink floral patterns with a brown sun hat. She also wore pearl necklaces and bracelets.
Trivia