"I know that toot! That's Bertie, that is!"
— Algy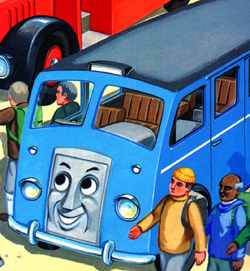 Algy
Registration Number: ALG 85
Drivetrain: 4WD
Arrived on Sodor: 1967
Algy is a bus who works alongside the Little Western. He formerly ran services up to Harwick.
Bio
Persona
When Algy first arrived, he teased Bertie, but made up and became friends with him after breaking down. Algy now helps Bertie take passengers around the Island of Sodor. They have been firm friends ever since.
Livery
Algy was originally painted cream with a red stripe on both sides. He was later repainted light blue with a white stripe on both sides.
Trivia