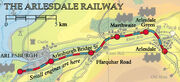 "Never overlook a little engine!"
— Motto
The Arlesdale Railway (AR), nicknamed "The Small Railway", is a miniature gauge (15 inch) railway, running for 10 miles from Arlesburgh, through the Arle Valley, to Kirkleas. The railway was opened in 1967 on the former trackbed of the Mid Sodor Railway.
The railway is owned by a consortium composed of the North Western, Skarloey and Culdee Fell railways, who constructed the railway to transport the spoils from the former MSR lead mines for use as ballast. The railway was also constructed with tourism in mind, which has since become the line's main traffic, supplemented by traffic from the local farms, mills and cottage industries. While the railway is owned by the three larger ones (each owning a third share of the Railway Company), it is independently operated.
History
Operations and Stations
Engines
Trivia
The Ravenglass and Eskdale Railway in Cumbria is its twin railway.