"Full Steam Ahead!"
— Captain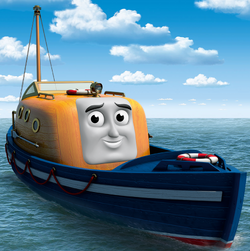 Captain
Class: RNLI Liverpool lifeboat
Designer: James Barnett
Builder: Groves & Gutteridge
Built: 1954
Top Speed: 8 knots
Arrived on Sodor: 1970
Captain is a brave wooden lifeboat who is part of the Sodor Search and Rescue Team.
Bio
Captain was built in 1954, as one of the members of his class to be fitted with a diesel engine from construction. He was originally assigned to the RNLI Station at Harwick. He participated in many rescues, most notably one when he and his crew prevented one of the steamships that traveled between Sodor and Man from sinking, saving almost a thousand lives. For this act of bravery, each crew member was awarded an RNLI Gold Medal, and the crew collectively was awarded the George Medal. The crew decided that it would belong to Captain.
Even the gallantry of the Harwick Lifeboat Crew, however, was unable to save their station from the cuts that hit the Sodor emergency services in the late 60s. Fortunately, through the efforts of Sir Charles Topham Hatt, the Sodor Search & Rescue Centre was built and Captain and his crew relocated there.
Persona
Captain is a lifeboat who resides at the Sodor Search and Rescue Centre in his own shed, ready, willing, and always on hand raring for action in case of an emergency. He can easily be dispatched from his shed by means of a slipway, but often resides in the small dock at the Search and Rescue Centre too. Being a lifeboat, Captain knows that duty may call out at sea to help and rescue anyone at any time. He takes this role seriously and is highly assertive, confident and is unfazed in the face of daring, dangerous missions, but is not made ostentatious or egotistical by his important responsibilities. He is level-headed, always knows what has to be done and shows good leadership skills.
Livery
Captain's cab is painted yellow, his sides are blue, and his hull is red. He is lined in white. He has a long, thin, yellow mast at the stern of his body. He formerly had the RNLI logo on his bow.
Trivia
Community content is available under
CC-BY-SA
unless otherwise noted.