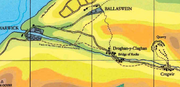 The Cronk & Harwick Railway is a narrow gauge railway that runs from Harwick to Cregwir, with a branch line to Ballaswein. It was originally a horse operated railway before being torn up in 1943 for the war effort.
History
Operations and Stations
The line starts at Harwick, where it connects to the North Western Railway, and continues until a station between the hamlets of Droghan-y-Claghan and the Bridge of Rocks. From there it continues to Cregwir, where another line leads to the Cregwir Quarries. The junction to the Ballaswein branch is located mid way between Harwick and Droghan.
Engines
Trivia
Community content is available under
CC-BY-SA
unless otherwise noted.