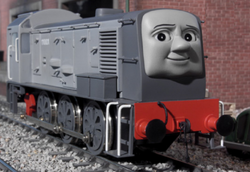 Dennis
Number: 11001
Designer: Oliver V.S. Bulleid
Builder: BR Ashford Works
Built: 1949
Configuration: 0-6-0DM
Top Speed: 44 mph
Dennis is a lazy diesel on the North Western Railway and the brother of Norman. He lives at Vicarstown Works.
Bio
Dennis was initially placed on the Kirk Ronan Branch but was eventually replaced by Billy.
Persona
Dennis is considered to be a very lazy diesel who tries to take advantage of others and depend on them to do his work, especially his brother. Dennis will often create excuses to get out of work, but usually gets caught in his lies, and always says sorry - but whether or not he means it is the question.
Livery
Dennis is painted grey with dark grey wheels, gearboxes, roof and front. The number "110001" is painted on the sides of his cab and his front bufferbeam in white.
Trivia