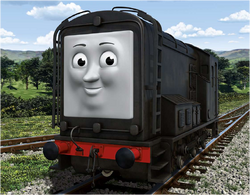 Diesel
Number: D8, formerly D3013
Class: BR Class 08
Designer: British Railways
Builder: BR Derby Works
Built: December 1952
Configuration: 0-6-0DE
Top Speed: 20 mph
Arrived on Sodor: June 1957
"I'm a diesel! Hard as nails, always gruff. A diesel should be rough and tough!"
— Diesel
"Devious" Diesel is a diesel shunter on the North Western Railway, who was the first died locomotive to be used on the Island of Sodor. He lives at Vicarstown Works.
Biography
Persona
Diesel is, in essence, the average pantomime villain. He is oily, malicious, devious, scheming and full of ideas to get revenge. He views himself and any other diesel of his kind as highly above the steam engines, and believes that all diesels are "revolutionary". However, despite his antics giving diesels on Sodor a bad reputation, which causes most steam engines, particularly Duck and Thomas, to mistrust him, he still wants to prove himself to be a really useful engine and, deep down, has a soft side, though he dislikes showing it. He is also very proud to be the first diesel on Sodor.
Livery
Diesel is painted in the black livery used by British Railways for shunting engines. The number "D8" is painted on the sides of his cab in white and his siderods are silver. When he first visited Sodor he carried the British Railways "Cycling Lion" logo on either side.
Trivia