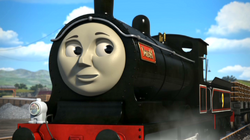 Donald
Numbers: NWR 9, formerly BR 57646, LMS 17646 and CR 662
Class: CR 812
Designer: John F. McIntosh
Builder: CR St Rollox Works
Built: 1909
Configuration: 0-6-0
Top Speed: 55 mph
Arrived on Sodor: 1956
Donald (originally known by his number, 57646) is a Scottish mixed-traffic engine on the North Western Railway, who is the twin of Douglas. He and Douglas are based at Arlesburgh on The Little Western, and work across the island as utility engines.
Biography
Persona
Livery
Donald is painted in British Railways' mixed-traffic livery of black with red and white lining. The number "9" is painted on the sides of his tenders in yellow. He has red nameplates with his name in gold on the sides of his smokeboxes.
He was originally painted in the Caledonian Railway's black freight livery. He was repainted into the LMS black freight livery in 1925.
Trivia
He and his twin are collectively nicknamed "The Caledonian Twins".