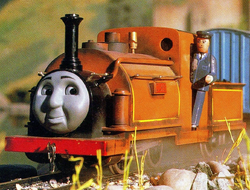 Duke
Number: SR 8, originally MSR 1
Class: "Small" England
Designers: George England and CM Holland
Builder: FR Boston Lodge Works
Built: 1879
Restored: 1970
Gauge: 2ft 3in
Configuration: 0-4-0ST+T
Top Speed: 35 mph
Arrived on Sodor: 1880
"That would never suit his grace!"
— Duke
Duke, originally known as The Duke, is a narrow gauge tender engine, who is considered a hero amongst the other engines.
Biography
Persona
Duke is one of the oldest and most experienced engines of the Skarloey Railway. He is also the mentor of Peter Sam and Sir Handel, from their younger days on the Mid Sodor Railway, when they were called Stuart and Falcon respectively. He may have a head teacher attitude and maintain his authority at all times, but can be quick to apply his knowledge and years of experience to help guide and correct any younger engine. He is proud of his name and keen to uphold the respect it merits. He can often be heard to say "That would never suit his Grace!" upon hearing or seeing something that he takes a disapproval to, or pedantically stating how he thinks someone would have adhered to the rules and regulations in his young days. Despite their teasing ways, Sir Handel and Peter Sam in particular have grown to become very fond of Duke and dearly nicknamed him "Granpuff" for his long service to the railway. He, in turn, commonly refers to them by their old names.
Livery
Duke is painted brown with yellow lining. His tender bears the MSR crest and he has red and gold name and number plates on the sides of his saddletank and cab respectively. While on the Mid Sodor Railway, he lacked lining.
Trivia