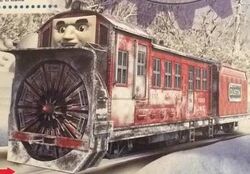 Dustin
Number: 1869
Class: Rotary Snowplough
Designer: J.W. Elliot
Builder: ALCo Cooke Works
Built: 1938
Configuration: Bo-Bo
Top Speed: 10 mph
Arrived on Sodor: 1974
Dustin is a self-propelled rotary snowplough that is part of the Sodor Search and Rescue Team.
Bio
Persona
Dustin is a strong, but slow snow-removal steam engine. He enjoys clearing snow and being a Really Useful Engine no matter the weather, even if he rarely works outside the snow period. He is always eager and determined to help out in any way he can.
Livery
Dustin is painted burgundy and black. He has the number "1869" and the initials "J.W.E." painted on his sides in white and has black nameplates with his name in white mounted on the sides of his tender. He has the Sodor Search and Rescue Centre logo on the sides of his cab.
Trivia
His number, 1869, is a reference to the year he was designed and the intials J.W.E. are a reference to his designer.