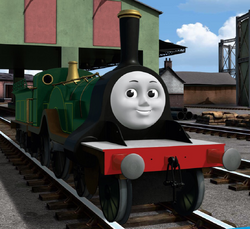 Emily
Number: 12
Class: GNR G4 Stirling Single 
Designer: Patrick Stirling
Builder: LNER Doncaster Works
Built: 1924
Configuration: 4-2-2
Top Speed: 90 mph
Emily is a large replica Stirling Single tender engine on the North Western Railway. She works on the Main Line, usually pulling The Victorian.
Bio
Emily is a replica Stirling Single who was built at Doncaster Works in 1924.
Persona
Emily acts as a sisterly figure to the other engines, especially Thomas, Percy and James. Emily is kind, friendly and always sensitive to the other engines' feelings. When ever she sees an engine in distress, she is quick to help and support them through their problems. She dislikes seeing other engines make fun of and laugh at others, and is quick to make them stop, tell them off and make them apologise. Though she herself occasionally teases other engines, she usally has a reason and knows not to take it too far. Emily can also be bossy, fussy and rude, and get in trouble for it, but if she wrongs someone, knowingly or not, she is quick to apologise. She can also be rather insecure.
Livery
Emily is painted emerald green, simlar to the livery of the Great Northern Railway, with gold lining. She has chocolate running-boards and silver buffers. The number "12" is painted in gold on the sides of her tender and she has gold nameplates on her wheel arches.
Trivia