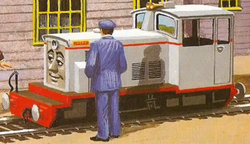 Frank
Designer: Ivan Farrier
Builder: Arlesburgh Works
Built: 1966
Gauge: 15 inch
Configuration: 0-4-4
Frank is a grumpy minature diesel engine who lives and works on the Arlesdale Railway.
Bio
Persona
Frank means well and has a good heart, but can tend to be grumpy.
Livery
Frank is painted light grey with a red stripe around his bodu. He has red nameplates with his name in gold.
Trivia