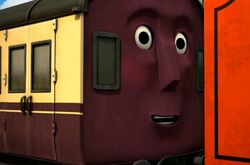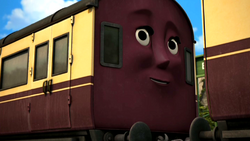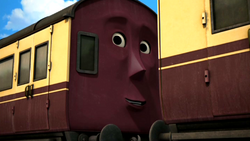 Slip Coaches
Class: GWR Slip Coaches
Builder: GWR Swindon Works
Built: 1930
Arrived on Sodor: 1974
Isambard, Jocelyn and Daniel, nicknamed "Slippies", are slip coaches from the Great Western Railway who work with Cass.
Biography
Persona
The Slip Coaches are very good friends with Duck. Like most coaches, they do not like being bumped by an engine. They can be very judgemental if they are not treated right, and need to be handled delicately. They enjoy working with other engines, so long as they know how to handle them properly.
Livery
They are painted in the GWR's Chocolate and Cream coach livery. When they first arrived on Sodor they were painted in BR's maroon and cream livery.
Trivia