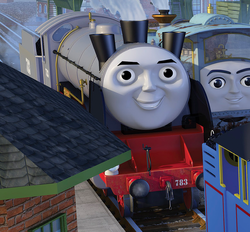 Merlin
Number: 783, formerly 30783
Class: LSWR N15/SR "King Arthur"
Designer: Richard Maunsell
Builder: North British Locomotive Co.
Built: August 1925
Configuration: 4-6-0
Top Speed: 90 mph
"I'm invisible, or can't you see? Who said that, you ask. Its only me! You look surprised, but have no fear. Its just a little trick to make myself... disappear!"
— Merlin
Merlin, originally named Sir Gillemere, is an experimental tender engine on the North Western Railway. He works on the Main Line, pulling secondary passenger trains, and lives at Vicarstown Sheds. He formerly worked ar Irlam Steelworks.
Biography
Persona
Merlin sees himself as a hero. He is proud and confident of his abilities and in particular his special skill - the ability to make himself invisible. All he has to do is say "Invisibility on!" and shut his eyes and he is convinced that nobody can see him. He knows he was specially designed in order to be hard to see and his three funnels, which were intended to disperse his smoke and steam, are there to prove it. What Merlin does not know is that his experiment did not work. Merlin wants to be able to prove himself and show everyone all the things he can do. He honestly believes you can do anything you set your mind to or at the very least, you can try. Merlin is fun and funny and wants to be a good friend, but his lack of judgment and sense of his own limitations can create its own challenges
Livery
Merlin is painted grey with red lining and brass fittings. The number "783" is painted on his front buffer beam and the sides of his tender in white.
Trivia