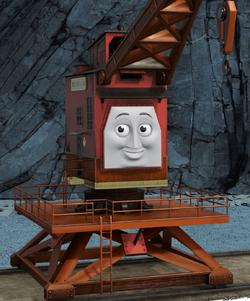 Merrick
Designer: Ivo Hugh
Built: 1962
Configuration: 4w
Merrick is a travelling gantry crane, who is stationed at the Blue Mountain Quarry.
Bio
Persona
Merrick is a sleepy gantry crane who works at the Blue Mountain Quarry. When there is no work to do, he is usually found snoring away, which can sometimes be heard loudly around the quarry, often to the amusement of the engines and workmen. But as soon as there is work to be done, Merrick is cheerily bustling about, wide awake once again, and working hard, ready to swing his hook into action to load an engine's trucks with blocks of slate so that they can head over the Blondin Bridge to the cutting sheds. When he is awake, he is attentive, merry and will often wish the engines a good morning.
Livery
Merrick is painted vermilion with yellow and gold accents. He has gold nameplates on both sides of his cab.
Trivia
Community content is available under
CC-BY-SA
unless otherwise noted.