"Real!? Of course we're real!"
— Mike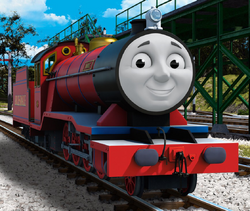 Mike
Builder: Clarksons of York
Built: 1966
Gauge: 15 inch
Configuration: 2-8-2
Arrived on Sodor: 1967
Mike is a strong red minature tender engine on the Arlesdale Railway, who prefers goods trains to passengers.
Bio
Mike was built for a minature railway in England. The line was in severe financial trouble, and hoped that the construction of a new locomotive would help solve the troubles, but, if anything, it made them worse. It closed at the end of the season. One notable incident during Mike's short time on his railway was when some naughty coaches insulted him and later caused him to become a runaway and derail. Mike has hated coaches ever since.
Bio
Mike can sometimes appear a little arrogant. He thinks he should be in charge of the other two engines, though neither of them really let him boss them around. Bert simply humours him, but Rex goes out of his way to tease Mike and wind him up, which is not very difficult. Mike much prefers pulling goods trains to passengers, unlike, for example, Gordon, as he considers goods much more straightforward and less likely to complain. He is proud of his strength and appears rather confident, but he would not be so easy to tease if he was not hiding at least a little insecurity. He can sometimes be a little irritable. He, Bert and Rex enjoy singing.
Livery
Mike is painted NWR red with blue and yellow lining. He has a brass dome, brass builder's plates on the sides of his cab, red nameplates with gold writing mounted on each side of his boiler and "ARLESDALE" written on the sides of his tender in yellow. On his old railway, Mike was painted green, like Rex.
Trivia
He has a brother named River Mite on the Ravenglass and Eskdale Railway.