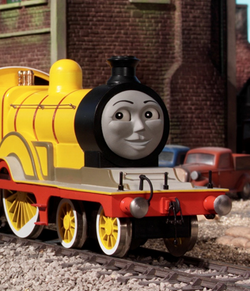 Molly
Number: 17
Class: GER D56/LNER D15
Designers: James Holden and Frederick V. Russell
Builder: GER Stratford Works
Built: 1911, rebuilt 1933
Configuration: 4-4-0
Top Speed: 90 mph
Arrived on Sodor: 1967
Molly is a powerful, but shy, blue tender engine that works on the Kirk Ronan Branch line.
Bio
Persona
Molly is proud of her strength and is happy to put it to use as one of Sodor's bigger engines. Because she is a sensitive engine, she often worries about fading into the background. Sometimes taking "empties" makes her feel less important and sad, but in the end, she will usually see that taking "empties" is a vital part of operations and an important task after all. Molly has a peacekeeper attitude, tends to be rather sensible, mature, and is looked upon as a "big sister" by some of the other engines. However, she is a sensitive soul, who can be easily embarrassed and can get upset by conflict, and will steam away to avoid it, but will usually have the courage to do what she thinks is right. Molly likes to be as good as everyone else and wants the other engines to think the best of her.
Livery
Molly is painted GER Royal Blue with scarlet lining. The number "17" is painted on the sides of her tender in gold. She was formerly painted in LNER Apple Green with black and white lining.
Trivia