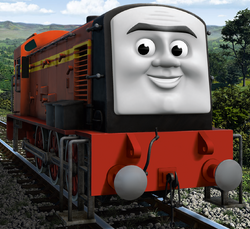 Norman
Number: D13
Designer: Oliver V. S. Bulleid
Builder: NWR Vicarstown Works
Built: 1965
Configuration: 0-6-0DM
Top Speed: 44 mph
Norman, nicknamed Norm, is an orange-red diesel engine and Dennis' brother. He works as a utility engine and lives at Vicarstown Works.
Biography
Persona
Norman looks like his twin Dennis, but he is a much kinder diesel engine. He wants to be liked by all the engines, whether they be steam or diesel engines. So he does his part at the Sodor Dieselworks and follows all of his orders. However, poor Norman often breaks down and he does not like that. Unlike Dennis, who is lazy, if Norman were fixed properly he would show what a Really Useful Engine he can be. He is always willing to help another engine in trouble. He cares for his brother dearly, and commonly covers his work so he won't get into trouble.
Livery
Norman is painted orange-red with yellow lining and a dark grey roof. His front, gearboxes and transmission wheels are painted black. The number "D13" is painted on the sides of his cab and on his front bufferbeam in white.
Trivia