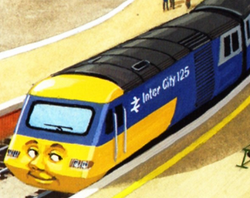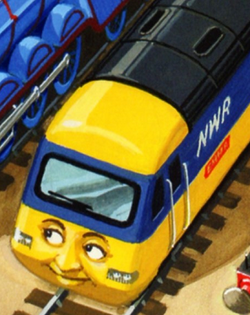 "Pip" and Emma
Numbers: D24 and D25, formerly 43 200 and 43 201, 254 038
Class: BR Class 43
Designer: BREL and Sir Kenneth Grange
Builder: BREL Crewe Works
Built: 1982
Configuration: Bo-Bo
Top Speed: 148 mph
Arrived on Sodor: 2011
Philippa, better known as "Pip", and Emma are twin high speed diesel locomotives who take the Wild Nor' Wester from Tidmouth to London. They live at Tidmouth Diesel Sheds.
Biography
Persona
Pip and Emma are kind, helpful and friendly. They quickly became good friends with the other engines, even those who were reluctant to trust diesels. Although they suffered problems with their cooling systems, they are efficient and reliable. Pip is a rather quite engine, and usually lets the more talkative Emma speak for the both of them. Unlike most fast engines, they are rather modest about their speed.
Livery
Pip and Emma are painted in the original InterCity 125 livery of yellow and blue. Their rear ends and their coaches are painted blue and grey. After they were bought by the Fat Controller, the words "InterCity 125" and the BR logo which were painted on their sides were replaced by "NWR" in white and red nameplates, with their name in gold.
Trivia