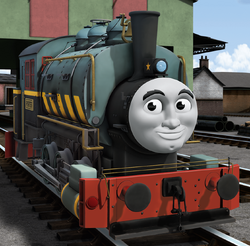 Porter
Number: 25, originally B.E.D.T. 17
Builder: H.K. Porter Inc.
Built: July 1922
Configuration: 0-6-0ST
Arrived on Sodor: 1973
Porter is an American dockyard tank engine shunter who lives and works at Tidmouth Harbour with Cranky, Salty and Carly.
Biography
Persona
Porter is a kind and helpful engine, with a good sense of self-confidence and does not worry about what other engines say or think about him, such as calling him a 'camel' because he has so many domes. Porter is not above engaging in a bit of friendly dockside banter himself, but when another engine is feeling low he can be very supportive. Porter's easy-going manner makes him very popular. He is a hard worker, although he can be a bit of a perfectionist at times. He is also very brave and can keep his head cool in a crisis.
Livery
Porter is painted viridian with yellow stripes and lining, brass fittings, red window frames and brass nameplates with his name in black. He has a gold star on each side of his lamp. The number "25" is painted in yellow under his nameplates.
He was formerly painted black with yellow lining and the letters "B.E.D.T." painted on the sides of his saddletank and the number "17" painted on his cab sides, both in yellow.
Trivia
He has a brother that has been rebuilt to look like Thomas on the Strasbourg Railroad.