"Consider my feelings. When we were both green, passengers kept calling me Mike!"
— Rex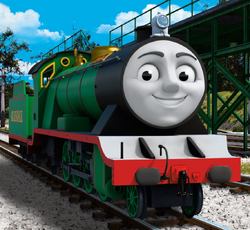 Rex
Designer: Henry Greenly
Builder: Davey, Paxman & Co., rebuilt Yorkshire Engine Co.
Built: 1923, rebuilt 1928
Gauge: 15 inch
Configuration: 2-8-2
Arrived on Sodor: 1967
Rex is a green minature tender engine on the Arlesdale Railway. He is a hard worker, but occasionally has problems with traction.
Bio
Rex is based on a design by Mr. Henry Greenly, and was built by Davey, Paxman of Colchester in 1923 at the same time as River Esk was for the Ravenglass & Eskdale. He was found to be powerful but erratic and was sent to the Yorkshire Engine Co. for rebuilding in 1928 at the same time as River Esk, and for the same reasons. Walschaerts valve gear, substituted for the poppet gear originally fitted, gave beneficial results. Unlike River Esk, Rex was not fitted with a Poultney tender.
Persona
Rex is a playful green miniature engine with a strong sense of humour. He is a hard worker and is the natural leader of the little railway engines (in spite of the fact that Mike prefers to think he's the leader). Rex is very proud of his railway and a great friend to the other engines, but he can't help teasing Mike to stop him getting too full of himself. Most of the time Mike manages to return the banter, but sometimes he gets a little wound up. Luckily Rex is very good at helping Mike see the funny side again. He, Bert and Mike enjoy singing.
Livery
Rex is painted NWR green with red and yellow lining. He has a brass dome, brass builder's plates on the sides of his cab, red nameplates with gold writing mounted on each side of his boiler and "ARLESDALE" written on the sides of his tender in yellow. He was painted in an almost identical livery on his old railway.
Trivia
He has a sister called River Esk on the Ravenglass and Eskdale Railway.