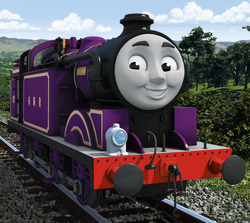 Ryan
Number: 1614, formerly 4614, 69498
Class: GNR N2/5
Designer: Sir Nigel Gresley
Builder: GNR Doncaster Works
Built: August 1921
Configuration: 0-6-2T
Top Speed: 60 mph
Arrived on Sodor: 1975
"My name is Ryan. And I'll be your engine today. Ready?"
— Ryan
Ryan is a purple tank engine on the North Western Railway. He works, with Daisy, on the Harwick Branch Line as the main goods engine.
Biography
Ryan was built at Doncaster in 1921 to operate London suburban services from Kings Cross.
Persona
Ryan is a friendly and good-natured engine, who goes out of his way to be kind, and is concerned when he sees others in trouble. Ryan would like to be a hero, but he is not actually as brave as he wishes he was, and has a tendency to panic a little in the face of danger. It does not put him off trying, though. Ryan is direct and sincere, but he has a good sense of humour too, and is not above making a joke at his own expense. Due to his good nature some engines, like Daisy, can manipulate and take advantage of him.
Livery
Ryan is painted purple with white and gold lining. He has the letters "GNR" painted on his tanks and the number "1614" is painted on his bunker, both in gold. He has brass nameplates on the sides of his smokebox.
He was formerly painted GNR Apple Green with black lining and yellow lettering, LNER black with red lining and yellow lettering and BR unlined black with yellow lettering.
Trivia