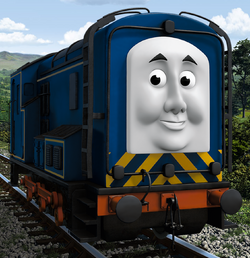 Sidney
Number: D14, formerly D?????
Class: BR Class 08
Designer: British Railways
Builder: BR ?????? Works
Built: 19??
Configuration: 0-6-0DE
Top Speed: 20 mph
Sidney, nicknamed "Sid", is a forgetful diesel shunter on the North Western Railway. He works as the station pilot for Vicarstown Station and lives at Vicarstown Works.
Biography
Persona
Sidney is a bit of a forgetful engine. He starts his day at one location and ends up at another, not remembering how he got there. When it was his turn for repairs at the Dieselworks, he was hoisted up and had his undercarriage removed. Being patient, Sidney was happy to wait, and wait, and wait. He sat there happy to pass the time with any engine that happened to be visiting. Two years later, he still had no wheels, so Percy helped him at Christmas to get a new set of wheels and now he is back on track. He is friendly and kind and always tries to help his friends, if he can remember what they need help with.
Livery
Sidney is painted navy blue with yellow lining and hazard stripes under his face. His traction rods and bufferbeams are painted a rusty orange.
Trivia