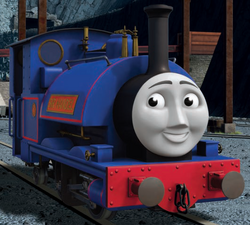 Sir Handel
Number: SR/MSR 3
Designer: Henry Hughes
Builder: Brush Electrical Engineering
Built: 1904
Gauge: 2ft 3in
Configuration: 0-4-2ST, originally 0-4-0ST
Arrived on Sodor: 1904
Sir Handel, originally named Falcon, is a blue narrow gauge saddle tank engine and the Skarloey Railway's third engine. He is named after Sir Handel Brown, a former owner of the Skarloey Railway.
Bio
Sir Handel was built in 1904, as a 0-4-0, for the Mid Sodor Railway to replace a engine that had recently been scrapped. Upon arriving on the railway, he was christened "Falcon" after his builder and placed in charge of the railway's express service.
However, it soon emerged that Falcon was "bouncy", which caused him to be taken off the express service, and placed on goods duties, and the MSR's second "Falcon" being built with a rear pony truck. Falcon himself was sent back to his builders to be rebuilt with the pony truck in 1910, upon returning to the MSR he was restored to express duties, sharing it with the second "Falcon", named Albert.
Persona
Sir Handel has been prone to moody tantrums and thinking that he knows better than others and, at times, is arrogant, pompous, rude, stubborn and bad-tempered. When he was given broad wheels which hold well to the rails and has been said to give a smooth ride, this contributed to his arrogant self-importance and his belief that he is a grand engine. He is not known for being a well-behaved engine since he has been known to take a disliking to the narrow gauge coaches (often referring to them as "cattle trucks"), feigning illness, derailing himself, damaging his firebars on purpose, believing that he should be in charge and has a tendency to get too big for his wheels. Despite all this, Sir Handel works to get things done and is proud to be a reliable, helpful and good-hearted engine.
Due to his bad attitude, he was sent to the quarry for several years in the hope of improving his attitude. Since returning to the Skarloey Railway, his attitude has indeed improved somewhat, and is now wiser and more mature, but he is quick to fall back into old habits, especially in situations where he has been put in charge.
Livery
Sir Handel is painted dark blue with red lining and brass fittings. He has red and gold name and number plates on the sides of his saddletank and coal bunkers respectively. While on the Mid Sodor Railway, he lacked lining.
Trivia