"I'm going as fast as a real engine now!"
— Skiff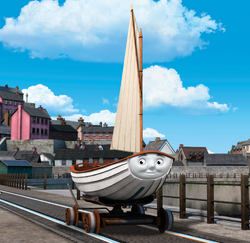 Skiff
Class: Eastport Pram
Builder: Sailor John
Built: 1964
Configuration: 4w
Top Speed: 25 mph
Skiff is a railboat. He was originally owned by Sailor John, but now gives Railboat Tours around Arlesburgh Harbour witn Captain Joe.
Bio
Persona
Skiff is a feisty fun-loving little boat with a very upbeat and positive attitude, in spite of the fact that his original captain, Sailor John, was not very nice to him. Sailor John bossed Skiff about, but no matter how loud he shouted or how hard he stomped on his deck, it never seemed to dampen Skiff's spirit. Skiff remained keen to make up again, and genuinely though of Sailor John as his friend. Skiff treats every day as an exciting new adventure; he likes to see the best in everyone and think of the world as a wonderful place. This leaves him vulnerable to persuasion to the point of appearing gullible. Despite being a boat, he actually preferes being on land, and dreams of being a real engine.
Livery
Skiff's hull is painted white, his mast and woodwork are blue and his wheels red. His sail is white with yellow stripes. While owned by Sailor John, his paint was chipped in places, his mast and woodwork were brown, and his wheels were rusty. His sail was plain white.
Trivia