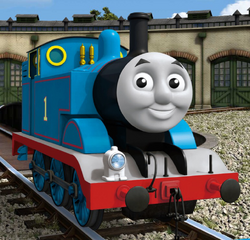 Thomas
Number: 1, formerly 110, 70
Class: LB&SCR E2X
Designer: L. B. Billinton
Builder: Brighton Works
Built: 1917, rebuilt 1923, 1960
Configuration: 0-6-0T
Top Speed: 60 mph
Arrived on Sodor: 1924
Thomas is the Number 1 tank engine on the North Western Railway. He runs the Ffarquhar Branch Line with his two coaches, Annie and Clarabel.
Bio
Built in 1916 for the London, Brighton and South Coast Railway, Thomas spent the first decade of his life shunting in the yards of Brighton. He quickly grew tired of working there and soon wished that he could see the world like the other engines. Between 1922-1923 he was rebuilt in an attempt to improve his design. After the LBSCR was merged with several other railway companies to form the Southern Railway, Thomas was declared surplus and put up for sale. He was bought by Sir Topham Hatt, the recently appointed controller of the NWR on Sodor. Thomas was delighted that he would have finally have the chance to see the world and eagerly departed to his new home. After arriving on Sodor he was made Station Pilot at Knapford Station, repainted in the NWR's Blue livery and became the railway's No. 1. Despite a rocky start to his new life on Sodor, he proved himself when he rescued James from an accident a few weeks after his arrival. For this act of heroism he was awarded Annie and Clarabel as his coaches and his own branch line. 
Persona
Livery
Thomas is painted in the NWR blue livery with red and yellow lining. The number "1" is painted on the sides of his tanks in yellow
When Thomas first arrived on Sodor, he was painted teal-green with white and yellow lining. He had "LBSC" lettering painted on his tanks and had the number "70" painted on the sides of his bunker, both in yellow.
Trivia