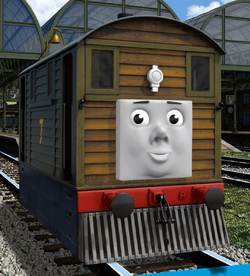 Toby
Number: 7, formerly 127, 7127, 8221 and 68221
Class: GER C53/LNER J70
Designer: James Holden
Builder: GER Stratford Works
Built: 1914
Configuration: 0-6-0T
Top Speed: 40 mph
Arrived on Sodor: 1951
Toby is a tram engine on the North Western Railway. He has two coaches named Henrietta and Hannah and a luggage van named Elsie. He works on Thomas' Branch Line, as well as his own line.
Bio
Persona
Toby is old but wise, hardworking, and knows enough about running branch lines to justify running Thomas' line with Daisy after Percy's accident with the trucks until Thomas came back. He is also savvy enough to control the trucks. However, his advanced age and design means that he is weaker than the other engines. While Toby is always ready to work hard without any fuss, he can be a bit temperamental sometimes, especially when young and inexperienced engines who are full of themselves make things difficult for him. However, work at the quarry line often soothes off his moods without any cause of grief to anyone, except of course his old faithful coach, Henrietta.
He is rather placid, jovial and easy-going, enjoying the peace and quiet of the countryside along Thomas' branch. He enjoys listening to birds outside his shed and spending time at the various farms dotted along the branch line.
Livery
Toby is painted chocolate brown with olive frames, grey sideplates and cowcatchers and a brass bell. The number "7" is painted on his sides in yellow with a red border. On his old tramway, Toby was painted brown with black cowcatchers and sideplates, which sported "LNER", and later "BRITISH RAILWAYS", in bright yellow letters.
Trivia